WRAH Blood Bank Testimonials
Stella: Blood Bank Hero
As a Certified Veterinary Technician, you would think that I would have been more aware of the fact that there is a need for companion animal blood donors. I went off into equine veterinary medicine and never really thought much more about it. Until, one day, I saw a post on Wheat Ridge Animal Hospital's Facebook page about their blood donor program. After reading the requirements for a dog to become a donor, I knew that my then 4 year old yellow lab, Stella would be a great candidate. As a blood donor myself, I knew that this process is a true act of kindness and a way to give back to others. In this case, a way to give back to our 4 legged furry friends that mean so much to us! I reached out to the blood bank team at Wheat Ridge to get Stella screened and the rest is history. Stella, as a universal blood donor, has been donating blood approximately every 8 weeks since May 1st of 2019. 
I can not say enough great things about the technicians that work at the Wheat Ridge Animal Hospital Blood Bank. From scheduling, to the day of donation, everything always runs smoothly. They are incredibly knowledgeable, organized, always friendly, and accommodating no matter the situation. We found out that Stella is a bit nervous when it comes to being in a hospital setting, so the staff implemented a safe and effective protocol that we follow every donation morning. There have been times where I have been allowed to come in and sit with Stella to help keep her calm, and I can tell how much she trusts Kendall, Sarah, and Naomi. They treat her with care and compassion each and every time, and that is why I will always keep coming back to Wheat Ridge Animal Hospital Blood Bank. 
For some people trying to talk themselves out of it because the drive is too far (I drive from Parker, CO), or the time it takes (with driving and the donation, about 3 hrs total of my day), etc. None of that matters when the emotions flood through you when you open a handwritten letter or email from an owner of a dog or cat whose life your pet saved by donating their blood. Thank you to the wonderful staff at Wheat Ridge Animal Hospital Blood Bank for making it possible to help save our canine and feline friends through blood donation. You all are the best! 
Katie Thomason, CVT
Payton and Wrigley: Blood Bank Heroes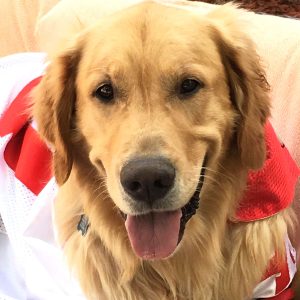 Two of my goldens, Payton and Wrigley, are Blood Bank Heroes and I could not be prouder of them. They love all the attention, and food and treats, that they receive at the blood bank. Everyone there is just wonderful. The dogs are tired for a few hours, and honestly it's nice to have some peace and quiet sometimes. Payton and Wrigley don't understand what a monumental difference they could be making in someone's life, but I do.
Imagine your worst nightmare, your dog is injured or sick, and the only chance is a blood transfusion. What if there weren't enough blood donors that week? What if someone couldn't take a few hours every two months to bring their dog in to donate blood? What if there was absolutely no chance for your dog to live? You would be devastated and heartbroken and feel completely helpless. Someday, Payton or Wrigley may need that blood to survive. If that makes me selfish, for hoping that I can create my own karma, I'm good with that.
There's also the unselfish reason to have your dog be a Blood Bank Hero. It's the right thing to do. Give back to your community and to others that may need help. Be generous with your time and your heart. Not every dog can be saved from injury or illness, but let's do everything to give them a fighting chance.
Christy